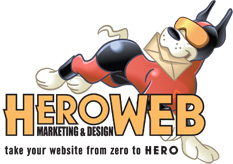 SiteBeat: October 2010
The HEROweb Marketing and Design Newsletter
HEROweb.com · MightyMerchant.com October 2010
HEROweb Acquires Dive In Design
October is here, and with it comes some exciting changes at HEROweb. We are pleased to announce that we are acquiring Dive In Designs, a web development firm based in Eugene, Oregon. We have worked closely with Dive In Designs for the past ten years. We are excited to welcome the approximately 100 customers of Dive In Designs to the HEROweb family and also new staff member Julie Schulte who has been a key employee at Dive In Designs for the past 5 years. This is a great opportunity for us here at HEROweb and marks a milestone in the growth and health of our company.
HEROweb Welcomes New Members to the Team
With our business growth, we are taking action to ensure that our customers continue to receive the highest quality of services. To help meet the growing demand, we have added two new members to our team.
Julie Schult
Website Developer
Julie lives with her husband and dance-partner in Eugene, OR. She has degrees in Psychology and Computer Science as well as a minor in journalism. With an educational background like that it is no surprise that she enjoys interacting with clients just as much as she enjoys the development itself. Her experience includes Project Management, Advertising and Information Management, Technical Support for Users, Layout, Typesetting and Copy-Editing, Programming, and Running and Marketing a small business. She enjoys home-brewing, hiking, biking, and playing soccer. Julie is also a volunteer radio host at the public radio station KLCC in Eugene.
Michelle Agee
Web Proje4cts Assistant
Michelle lives in Eugene and studies Psychology at the University of Oregon. She is involved in a variety of projects at HEROweb, including Search Engine Marketing, writing for and compiling SiteBeat, and assisting with various aspects of website development. She enjoys the social aspect of her work as well as the design elements. She has a strong appreciation for team dynamics and is happy working with her coworkers toward common goals. Her experience includes Journalism, Desktop Publishing, Layout and Copy-Editing, and basic Web Design. She is also experienced and active in the Human Services field, where she focuses mostly on impoverished families and adults and children with physical and cognitive disabilities as well as Psychiatric and Socioenviornmental Disorders. Personally, Michelle enjoys classic movies, cooking, baking, reading, writing, art, camping, hiking and time spent with loved ones.
Click here to meet the rest of the team!
Jesse Wakeley Attends Mobile Commerce Conference
This month we are preparing for the outset of Mobile MightyMerchant, which is a version of MightyMerchant optimized for mobile devices. We are installing Mobile MightyMerchant on the sites of a few brave beta testing customers. And we look forward to a broad roll-out. As we write this newsletter, Jesse Wakeley is attending the
Mobile Commerce Forum
in Chicago to learn the latest information about mobile commerce and payment systems. According to ABI Research, U.S. mobile commerce sales hit $1.2 billion in 2009, and is expected to continue to grow significantly in the coming years. The HEROweb team is eagerly working on solutions that will allow you to take advantage of the mobile revolution.
Google Instant - Quick Update
During the third week of September, Google released a whole new way of doing search which they call Google Instant. In a nutshell, the Google Search page has a new level of intelligence that predicts what you want to find and refreshes the search results accordingly as you type.
As with any new announcement from Google, many people get very nervous about what will happen to their business. A month into this new Instant Search world, it looks like the effects are noticeable in some cases but certainly not dramatic. We will be keeping a close eye on the impact of Google Instant in the coming months.
For those of you looking to do a little extra reading, here are a few resources:
Google Impact - The Impact for Ecommerce Site Owners
- Written by Michael Stearns for Practical Ecommerce
Google Instant - Impact on Paid Search - Search Engine Land
November's Free Webinar
The first of our free monthly webinars took place on October 5, 2010. It was such a success that we decided to do another one about a week later, further discussing the topic of Advanced Options in the Mighty Merchant Site Manager.
We hope you will join us on November 4, 2010 at 10:00 am PST for our next free webinar:
"Using the MightyMerchant Site Manager for SEO"
Invitations will be sent out the week before the webinar takes place, and will include sign-up instructions.
Our Latest Work
We had several more sites go live this month. Take a look!
ReflectionsCoburg.com
- Specializing in top quality hair care and spa services
Ute1Stop.org
- Training and employment services for job seekers and employers
LizzieCJewelry.com
- Hand crafted jewelry made in Manhattan Beach, California, using one of a kind stones and hand picked sparkling gems
MidwestDesignImports.com
- Wholesale distributor of artificial birds, feather products, kits, craft items and much more
ShiningLightJewelry.com
- Spirit-charged, soul-inspired custom designed rings and handcrafted jewelry
From all of us on the HEROweb Marketing and Design team -

Thanks for checking out SiteBeat. We look forward to helping your online business succeed in meeting your goals this holiday season and in the coming new year!
Makers of MightyMerchant Ecommerce Software - Fast, Flexible and Fun websites for Small Business -
http://www.hero-web.com
http://www.mightymerchant.com