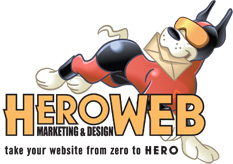 SiteBeat: October 2011
The HEROweb Marketing and Design Newsletter
HEROweb.com · MightyMerchant.com
Welcome to autumn! The focus of this newsletter is about gearing up for the holiday shopping season, which is just around the corner. We have many resources available for you to browse, with helpful, easy to implement ideas for making the most of the holiday shopping season.
In This Issue
Prepare Your Holiday Promotions Now
If you're planning on sending a Thanksgiving, Hanukkah, or Christmas promotional email to your customer base, it's important to make it stand out. You're not the only business that is hoping to capitalize on the holiday shopping season, so get started now. HEROweb has
holiday resources for site owners
ready to take action to get their sites in holiday mode.
Browse HEROweb articles about preparing your site for holiday traffic
Welcome to Greg Gant, Our New Web Developer
We would like to introduce you all to our new web developer, Greg Gant. Greg is originally from California, and attended college at the Art Institute of Seattle before transferring to the University of Oregon where he graduated with a degree in Digital Arts. 

Prior to working with us here at HEROweb, Greg has been working primarily in education, supporting the technology used in the classrooms and for the administrators. Welcome, Greg!
Read Greg's bio on our site to learn more about our newest team member.
Information About Our Billing Policies
Some of our customers have asked for clarifications about what services and benefits are included in their monthly costs. We want this information to be accessible and easily understandable for everyone, so we have created a page on our site that explains this. From our site, click on the "Customers" tab in the upper right. There you will find a link to
"Billing Policies
."
Please feel free to contact us if you have any questions about how to take advantages of the services that are included with your monthly payments.
View our Billing Policies.
Welcoming New HEROweb Customers
Check out the latest sites to go live!
AgEnergyNW.org
– A nationwide network of non-profit organizations who assist agricultural producers and rural small businesses to reduce energy consumption and secure funding for energy improvement projects.
APSLegalTabs.com
– Providing law firms with one of the largest inventories of stock index/legal exhibit tab dividers and every printing process a law firm needs, such as Thermography, Engraving, Offset Marketing Materials, Digital Printing, Business Forms, and more.
Kulae.com
– A retail and wholesale site offering stylish and eco-friendly yoga gear.
BigfootAndBeer.com
– Offering a large variety of Bigfoot-related products, including t-shirts, mugs, hats, books, and foot casts.
FlowerPowerGardenSupplies.com
– Power up your gardening with grow lights, nutrients, hydroponic systems, and everything else your flowers, fruits, and vegetables might need.