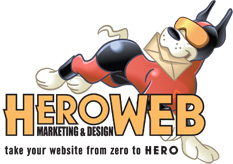 SiteBeat: October 2011- Part 2
The HEROweb Marketing and Design Newsletter
HEROweb.com · MightyMerchant.com
Yes, we just sent out an October newsletter just a couple of weeks ago, but we have all kinds of exciting developments this fall and want to keep the information flowing!
Please read on for a valuable customer referral offer, a request for input on expanding our services, and another exciting new employee announcement. We also share some important information about sales tax policy - a topic that we have had several questions about lately.
Customer Referral Offer
We are grateful for all the customer referrals we receive. We know that some of you are not asking for anything in return. But, what can we say, we really appreciate referrals and want to offer a thank-you.
We have a great promotion for this holiday season: Refer a new customer to HEROweb. Once that customer is up and running for 3 months, receive a credit on your monthly fees equal to 3 months of the new customer's monthly costs.
This could be a savings of several hundred dollars!
All you have to do is refer someone to us who becomes a customer.
Fill out the simple
Customer Referral Form
with your name and the customer's name, so we know about the referral. We will let you know when the customer signs up. Once the site goes live and remains active for three months, we will credit your account.
View the details of the
Customer Referral Offer
.
Introducing a New Service: Support Plus
We are developing a new program for customers whose businesses are growing and need additional and ongoing customer support.
The
HEROweb Support Plus
program will be geared toward customers who are looking for additional help with their businesses beyond basic site maintenance. We are looking for your input to see how many customers are interested in such a service.
Changing Sales Tax Issues
Many changes are underway for sales tax of goods sold online. The issue of sales tax on the Internet was decided way back in 1992—the Supreme Court ruled in the Quill catalog case — that a state can compel companies to collect sales tax only if they have a physical presence in the state. However, a bill was introduced into Congress in July of this year and would overrule the 1992 ruling and enable states to require large Internet and mail-order retailers to collect state and local sales taxes.
We're keeping a close eye on these developments and suggest that you do too. For internet retailers to be subject to collecting sales tax anywhere goods are sold, and complying with the various state, city, and municipality tax codes, could be a logistical nightmare.
We have researched this and posted an
article about this issue
on our site that gives some background as well as some potential future scenarios.
Read "
Sales Tax Changes: How Will They Affect Online Business?
" here.
Welcome to Mindy Linder, Our New Web Projects Assistant
We would like to introduce you all to Mindy, our new Web Projects Assistant. Mindy was born and raised in Eugene, Oregon, and has two degrees from the University of Oregon -- a Bachelor of Arts in Theatre Arts, with a Minor in Business Administration, and a Master of Science in Arts and Administration with concentrations in Performing Arts and Media Management, and Cultural Policy. Mindy utilizes her performing arts degree as a theatre performer in local productions, and when not acting, she enjoys yoga, rock climbing, cooking, playing the guitar (learning to, anyway) and spending time with her boyfriend Jesse and dog Lucy, and laughing as often as possible. Both professionally and personally, Mindy has dedicated herself to her growth and development as a leader in the arts, culture and small business. She thinks of herself as "a connector, connecting people, ideas and information to forge dynamic collaborative partnerships." Among her history of leadership and service to our community, she is one of the proud co-founders and steering committee members of the Arts and Business Alliance of Eugene. Welcome, Mindy!
Read Mindy's bio on our site to learn more about our newest team member.