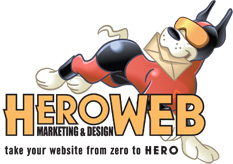 SiteBeat: October 2012
The HEROweb Marketing and Design Newsletter
HEROweb.com ∑ MightyMerchant.com SiteBeat - October 2012
October brings with it thoughts of holiday shopping which is soon to commence. We have an article for you with 10 tips to tune your website for the holiday shopping season. We also have some important information related to the recent changes to the online sales tax in California. We predict that other states will not be far behind in changing their sales tax laws, so this is an issue you will want to watch.
Our web development team has a big announcement: MightyMerchant Mobile is in full production.
We offer a range of mobile site options and welcome the opportunity to speak with you about that. And please take a moment to meet our newest HERO, Lindsay Bradley.
Announcing MightyMerchant Mobile
One of HEROweb's goals for 2012 is to provide dynamic, easy-to-use mobile solutions for our customers. To that end, we are proud to announce our release of MightyMerchant Mobile! We are in full production with mobile sites and are currently scheduling mobile site development projects for January 2013. We welcome the opportunity to discuss with you how to best reach your customers on the go. We offer a range of options to best suit your unique needs, whether you desire a basic, functional mobile site or a robust, custom mobile experience for your users.
Whatís great about Mighty Merchant Mobile?
∑ Our mobile sites are touch-friendly, low bandwidth sites, optimized for mobile devices.
∑ Your desktop and mobile site share the same data. No double-entry or syncing of data is necessary.
∑ You can easily specify mobile-only or desktop-only content.
∑ HEROweb has the friendliest, most helpful staff around! We enjoy working together to help you meet your goals.
Not sure if a mobile site is right for your business?
Check out our website, including a
short video showing how to view mobile activity
on your existing site.
If a mobile website is already part of your 2013 marketing strategy, please check out our mobile offerings and give us a call today at 541-746-6418 or 888-257-2567 so we can schedule your project!
Visit HEROweb.com for more information about our mobile offerings.
California Sales Tax for Online Sales
California has been working for years to craft sales tax legislation targeting large Internet retailers--retailers doing in excess of $1 million annual sales in California. Depending on the location, sales taxes in the state range from 7.25% to 9.75%. While this revenue will be a boon to the coffers of state and local governments, itís an extra hurdle for Internet retailers.
We have posted a new article on our site,
"Sales Tax and the Recent California/Amazon Changes"
that provides additional information about this change.
Read HEROweb's Sales Tax article
Top 10 Ways To Make This Holiday Shopping Season A Success
Every year about this time thoughts begin to turn to snow and shopping. HEROweb has posted a timely article of 10 top tips to make your holiday shopping season a success.
Read our Holiday Shopping Prep article, "Top 10 Ways to Make This Holiday Shopping Season a Success".
Welcome to Lindsay Bradley, Our New Special Projects Coordinator
HEROweb welcomes Lindsay Bradley, who has recently joined the team as Special Projects Coordinator. She will be responsible for moving forward key development projects. Lindsay brings to us a unique professional background, including assignment as a cryptologic linguist in the Air Force, editor for an educational assessment organization and, most recently, as the special assistant to the CEO of a nationally recognized educational policy firm based in Eugene. She values opportunities to engage with diverse groups of people, collaborate with others on innovation and ideation, and learn about exciting technological developments. She earned both her bachelor's and master's degrees in English with honors from St. Mary's University.
Welcome to HEROweb, Lindsay!
Read Lindsay's bio on our site to learn more about our newest team member.
Welcoming New HEROweb Customers, Redesigns & New Mobile Sites
Check out these great new sites and redesigned sites!
New Sites:
AntsonaMelon.com
- Ants On A Melon provides unique dance/party accessories, specializing in hand made fibre-optic LED lights with customized circuitry, hand made. Each LED light is accessorizable with different lens fittings, that range from light saber to exotic. If you attend a festival such as Burning Man or EDM (Electronic Dance Music), you are likely to see this site's handiwork!
MoleCat.com
- Molecat offers a patented tool for eliminating burrowing pests. Safe for children and pets, the Molecat offers affordable, reusable DIY extermination.
Redesigned Sites:
TerraFirmaBotanicals.com
- Founded in 1982, Terra Firma Botanicals has always offered organic and ethically harvested wild herbs, herbal remedies, tinctures and oils for natural health and beauty.
eCove.net
- eCOVE provides classroom observation software and easy to use tools for collecting objective data on teaching practices and student behaviors, along with the ability to view the aggregated data for district-wide analysis.
Mobile Sites:
Here are some mobile sites we have developed during 2012. Mobile sites are tested on a range of devices and operating systems, including Android, iOS and Windows Mobile.
GlasscraftInc.com
- Find all your glass blowing supplies here ó now from your smart phone! The Glasscraft mobile website has many features that make browsing and purchasing items from a mobile device much more straightforward than performing the same tasks on the desktop version. Glasscraft mobile allows the user to make purchases directly from their smart phone, but users also have the option of emailing themselves the shopping cart so they can make the purchase from their desktop computer.
Bevel Edge.com
- From your laptop or now your mobile device - explore all of the laminate counter top renewal supplies that Bevel Edge has to offer! The selection includes every color or pattern of sheet laminate, counter top trip, back splash, colored caulk, sinks, tools and adhesives. The Bevel Edge mobile site makes it easy to browse the extensive Bevel Edge catalog to help shoppers find what they need all from the comfort of a smart phone.